The different industrial sectors
3D printing has revolutionised the industrial manufacturing landscape by offering greater flexibility and customisation. It has become a major lever for Industry 4.0, promoting the digitisation and responsiveness of industrial processes. 
In this Industry 4.0, EVA is a perfect transition, combining machining and 3D printing. It stands out by offering a wide range of versatility to meet the needs of the different industrial sectors, thanks in particular to its hybrid advantage, which enables it to 3D print and then machine the same part.
The mechanical engineering sector
In the mechanical engineering industry, professionals are frequently faced with the question: "What would be the best process for manufacturing my part?
Namma has the answer with EVA and its three on-board processes.
It's no longer a question of choosing between 3D printing, machining or laser engraving. This 3-in-1 machine can be used for a variety of applications, including prototyping and tooling.
EVA also makes it possible to manufacture industrial parts quickly and accurately by 3D printing them and then re-machining them, simplifying the design process.
Using EVA, mechanical engineers and designers can rapidly refine their designs, testing working physical prototypes to assess their performance and functionality. This approach enables potential problems to be identified and resolved at an early stage of development, resulting in shorter design cycles and an overall improvement in the efficiency of the manufacturing process.
In addition, its large working volume enhances its ability to produce large-format parts for the manufacture of large mechanical components, such as moulds and jigs, or for the production of mass-produced parts. This increased flexibility and efficiency enables companies in the mechanical engineering sector to reduce costs, speed up product time-to-market and improve productivity.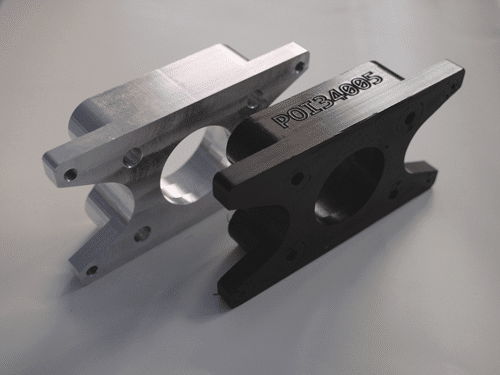 In the aerospace industry, precision and reliability are essential criteria. 
EVA meets these requirements, thanks in particular to its hybrid advantage. Indeed, the combination of 3D printing and re-machining of the same part on the same machine makes it possible to obtain fine surface finishes (Ra down to 0.3µm) and dimensional tolerances accurate to 0.05mm. As in the mechanical sector, it offers the possibility of rapidly manufacturing functional prototypes, thereby reducing the development process. 
With EVA, you can produce high-quality aeronautical components such as turbines, structural components and tooling moulds. Thanks to the different materials compatible with EVA, you can manufacture complex parts in light, resistant materials (carbon fibre-filled nylon). EVA opens up new possibilities for innovation, contributing to the performance of the aeronautical sector.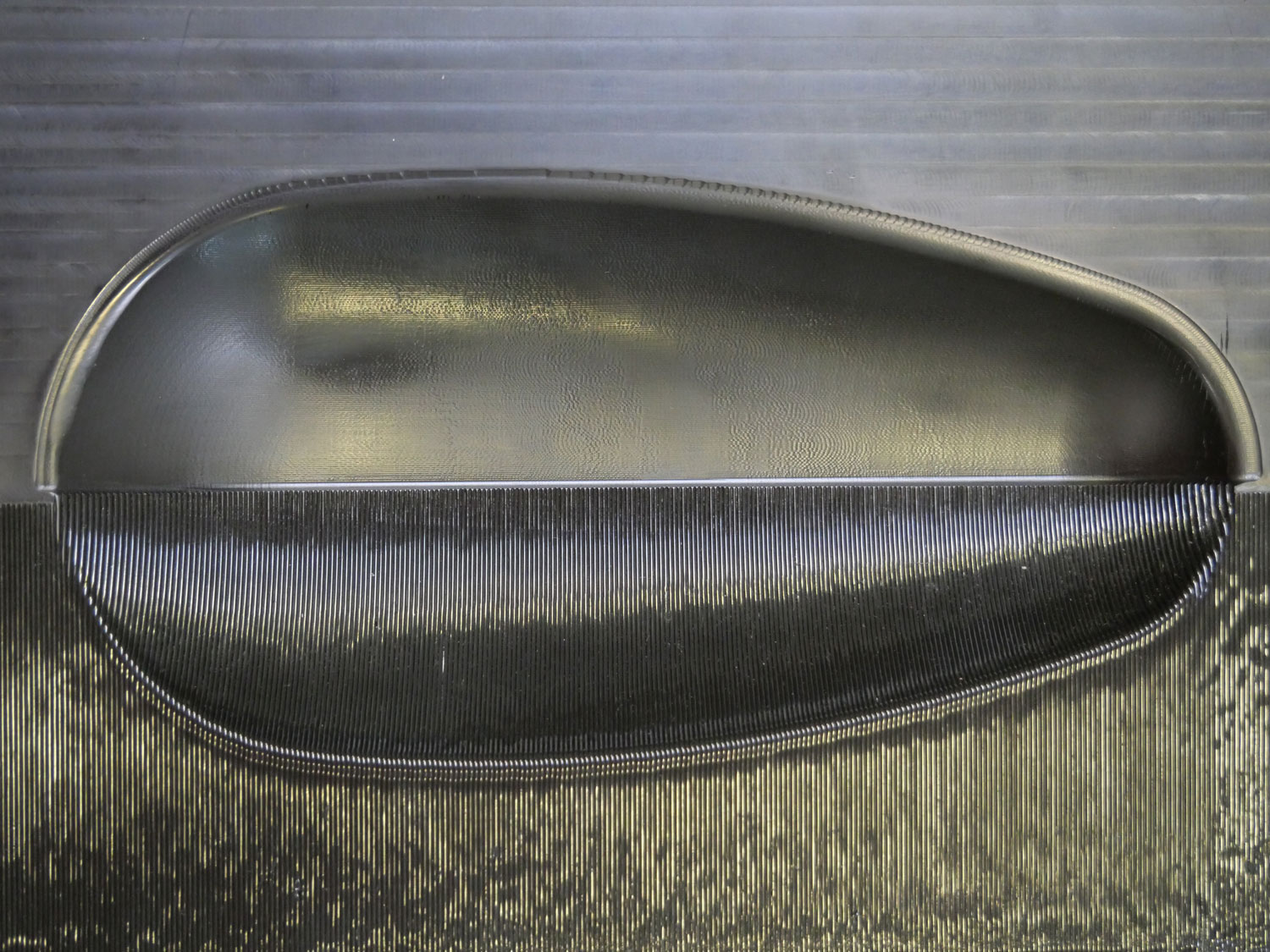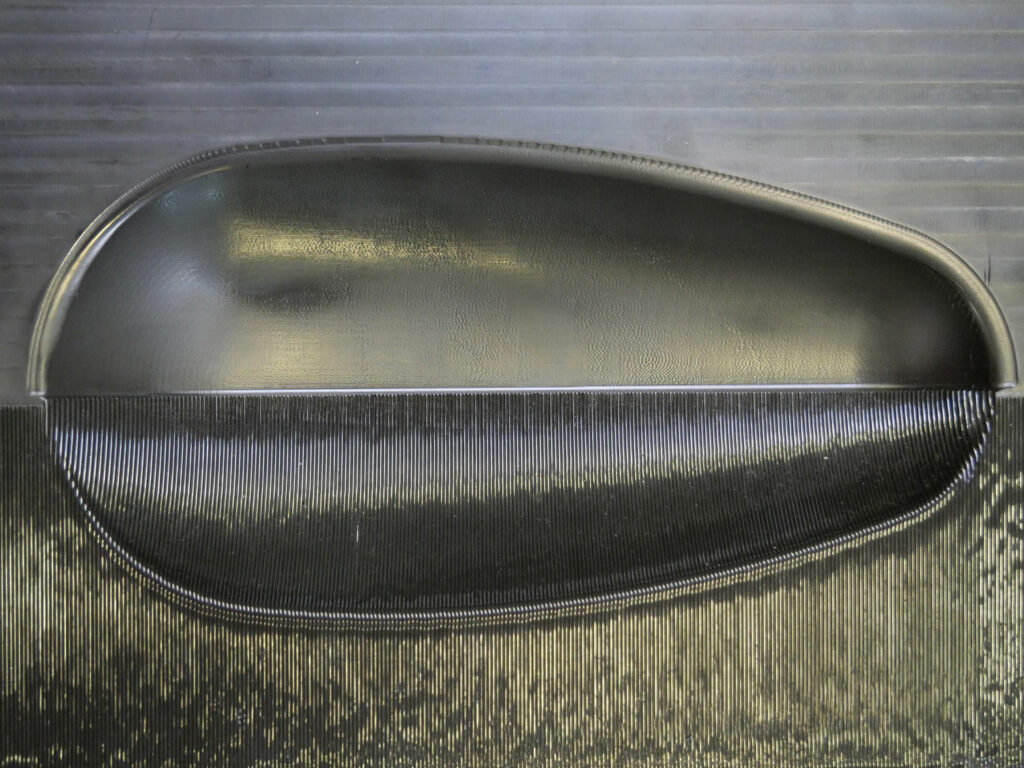 Its use in the defence sector pushes back the limits of the design and manufacture of equipment, components and parts specific to military needs. 
Here, the strength of customisation lies in the creation of made-to-measure parts that meet the specific requirements of their missions. Whether it's fasteners, equipment or special components, EVA makes it possible to produce parts tailored to tactical and operational needs. 
The lightness, precision and strength of parts made with EVA are also important assets in the defence sector. The robustness of machined parts and the complexity of 3D-printed parts mean that military equipment can be better adapted and maintained in operational condition. 
The materials used can be chosen to offer specific properties, such as shock resistance, vibration resistance or resistance to extreme temperatures. This enables the creation of durable and reliable parts, capable of withstanding the harsh conditions faced by military equipment.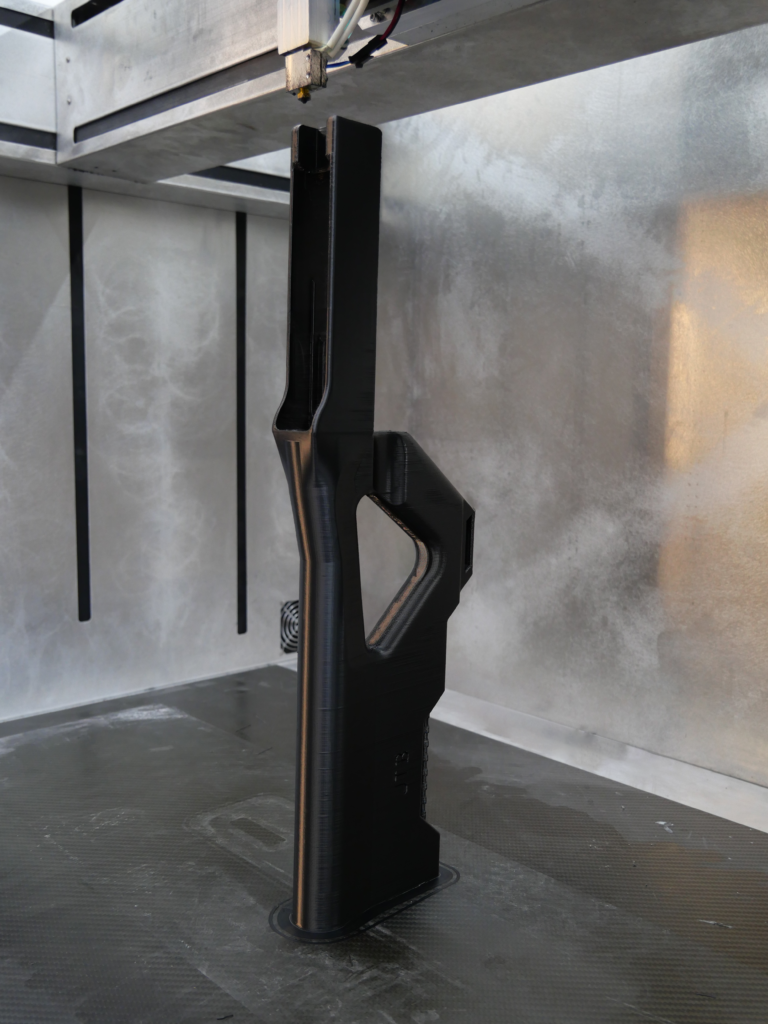 EVA offers the education sector a response to the ever-changing challenges and issues facing industry, particularly in the context of the constantly evolving Industry 4.0. Thanks to its versatility and ability to combine 3D printing and machining, EVA offers educational establishments a complete solution for industrial learning and training.
What's more, the N-Play software makes it easy to manage and control EVA. Thanks to its intuitive interface, the software enables students to optimise their work by combining efficiency and simplicity in all stages of the manufacturing process.
This pedagogical approach fosters a better understanding of emerging technologies, while preparing students to meet the challenges of the industry.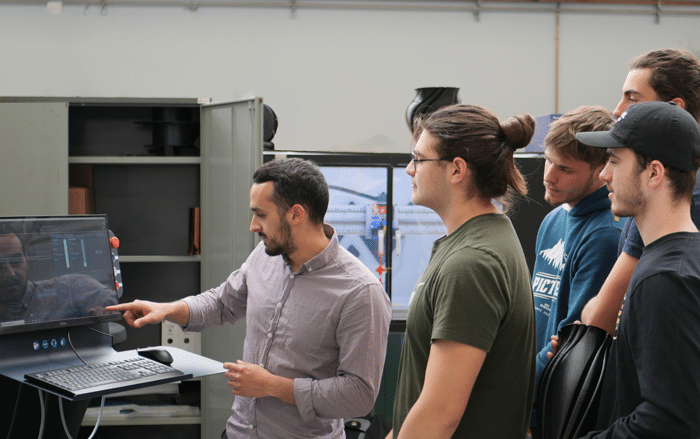 In the automotive industry, EVA offers multiple advantages for the design, prototyping and manufacture of automotive parts. 
As with the mechanical sector, designers can create prototypes of automotive parts that are identical to the moulded/injected parts with great accuracy and speed, enabling them to test and refine their designs more quickly than with traditional methods. 
In addition, EVA's ability to produce bespoke replacement parts means that costly stocks of spare parts can be reduced. Manufacturers can use 3D printing to make specific parts as required, such as parts from older programmes. Print large format or mass-produced parts thanks to EVA's large work volume. 
With hybrid 3D printing, manufacturers can quickly experiment with new ideas and integrate them into their development processes, contributing to innovation and continuous improvement in the automotive industry.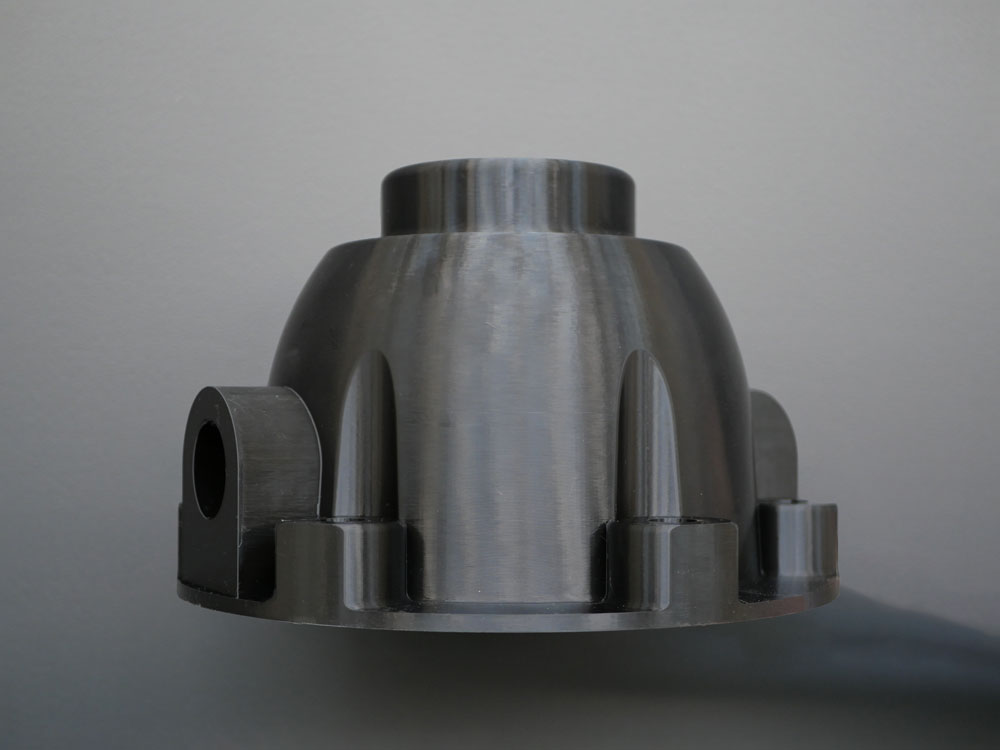 One of EVA's key advantages in the marine sector is its ability to produce bespoke parts tailored to the specific needs of marine equipment. 
3D printing and machining with EVA can be used to create complex, lightweight parts that are optimised in terms of weight and performance. This lightness is particularly beneficial for marine craft, as it helps to reduce fuel consumption, improve energy efficiency and increase range. 
In addition, manufactured parts can be designed to withstand demanding marine conditions such as corrosion, vibration and impact, ensuring greater durability and reliability. 
EVA also offers great flexibility in terms of the materials that can be used. Whether polymers, composites or even metals, it is capable of working with a wide range of materials suited to specific marine applications. This allows manufacturers in the sector to explore new possibilities, update their developments and use innovative materials to improve the performance, strength and durability of their products.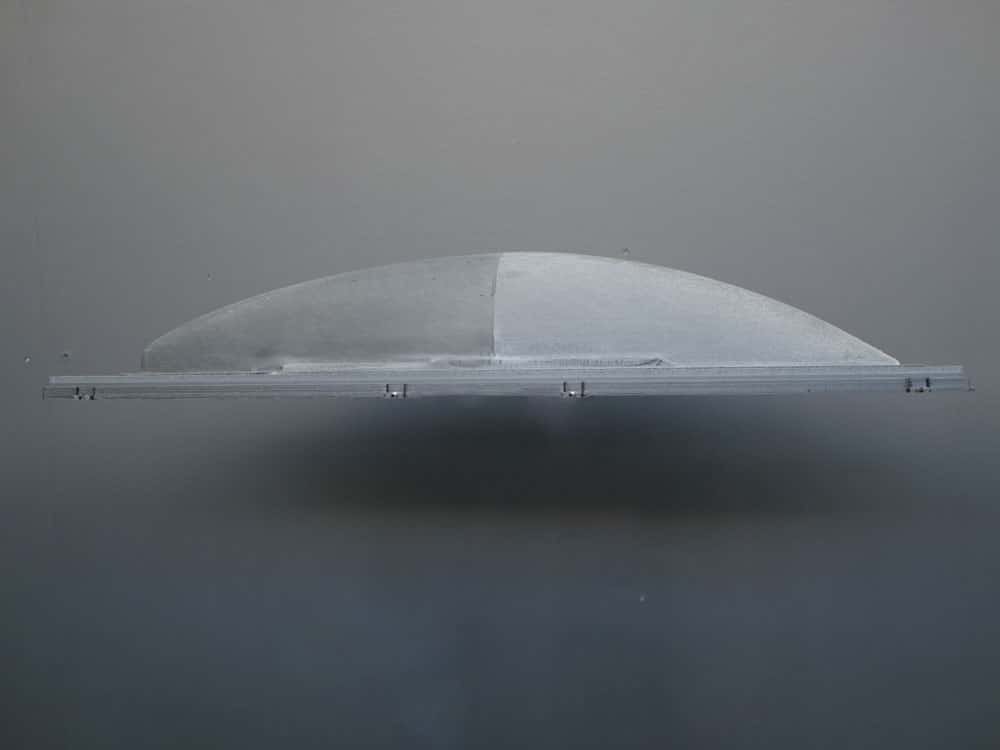 EVA is a versatile, innovative solution for a wide range of industrial sectors. Whether in the mechanical engineering, aerospace, defence, medical, automotive or marine sectors, EVA offers a high degree of flexibility and customisation thanks to its hybrid advantage. Its potential to produce large-format parts, its versatility thanks to its multiple processes and applications, and its ease of use, make it an indispensable tool for companies looking for performance and autonomy in their manufacturing processes. With EVA, industrial companies can adapt to the specific requirements of their sector while remaining competitive in a constantly changing environment.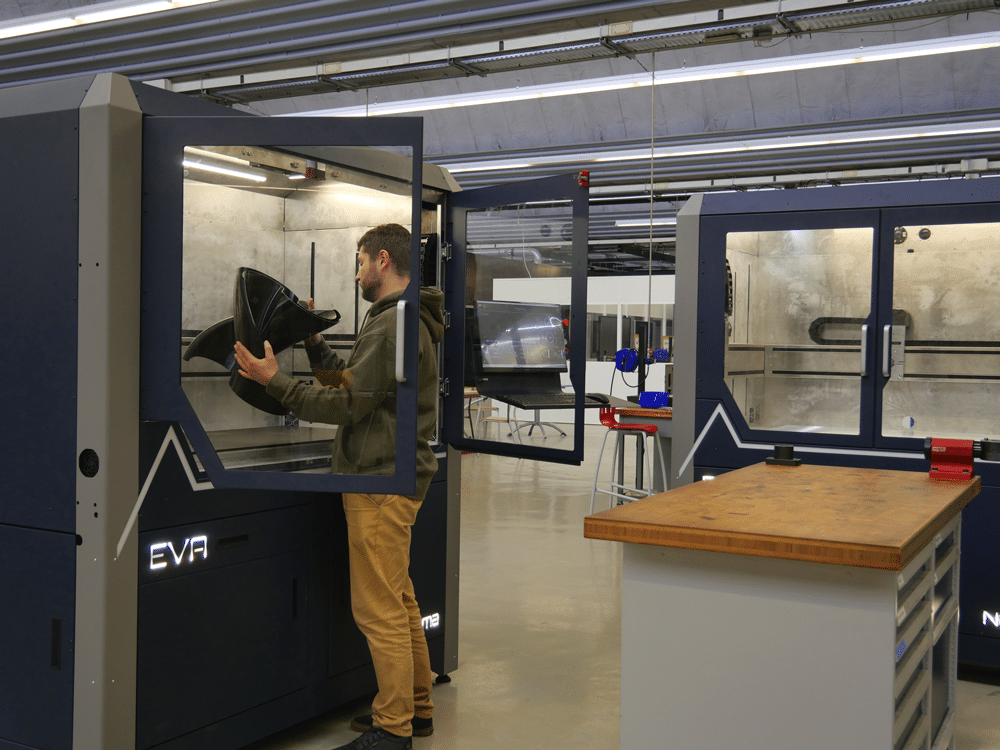 The different industrial sectors 3D printing has revolutionised the industrial manufacturing landscape by offering greater flexibility and customisation. It has become a …