Are you hesitant to integrate a new (hybrid) 3D printer into your workshop ? Not sure what role it will play ? Not sure which option is the most optimized between outsourcing and machine acquisition ? Wondering what exactly is an industrial hybrid machine ?
Don't worry, Namma comes to your rescue to discover the progress of its purchasing process.
There are 3 ways to get in touch with the Namma team:
1. Via the website: click on the button below if you wish to make an appointment directly with a member of our team. You will also be able to specify if you prefer that this appointment take place by telephone, videoconference or physical appointment.
2. By Mail or Phone: Contact us directly to set an appointment with the modalities you want. (+33)6 09 85 38 23 contact@namma-france.com
3. At shows: You can also meet us at the trade shows, during which we will have the opportunity to exchange with you. Throughout the year we participate in these events. Do not hesitate to follow us on social networks to stay informed of our upcoming events.

After presenting the context of your business and your activity, we will study together your need. 
Then we will identify the most suitable EVA processes and applications for your projects.
If you have opted for a physical appointment, we will also give you a demonstration of the machine, on our premises or at one of our partners.
After identifying candidate parts to be made with EVA in relation to your need, we then establish a study and a calculation of your ROI (Return on Investment). This document will support the investment request to know if the machine is profitable in relation to the parts you want to make and their quantity.
We then make the parts with EVA to allow you to test them internally*.
Once you have obtained all the information and have been able to test the capabilities of the machine we can then proceed to purchase. There are 2 ways to acquire the machine:                                                                                                                                                    – By direct purchase                                                                                                                                – Via leasing by financing partners
Once the purchase is made we assemble your machine and we come to make the installation directly in your premises.
We guarantee support on the use of the machine and its associated service.
Do not hesitate and contact our team quickly ! 
*This manufacturing service is a paid service and will be deducted from the final price of the machine.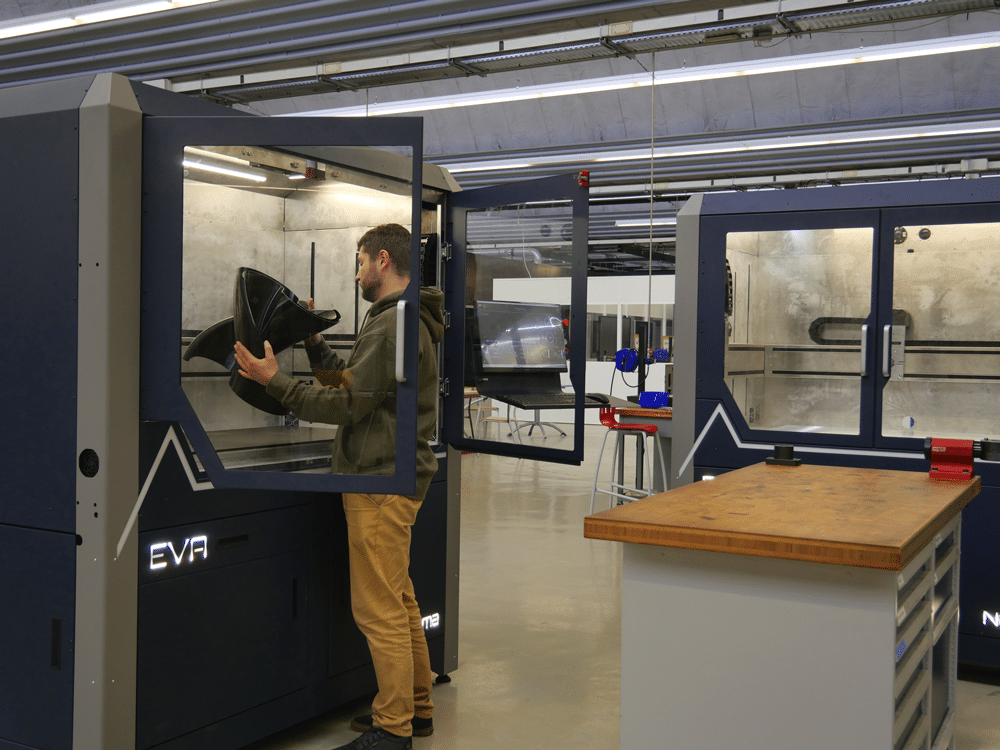 The different industrial sectors 3D printing has revolutionised the industrial manufacturing landscape by offering greater flexibility and customisation. It has become a …