Advantages of a 3D printer
3D printing has conquered the world of industry and has become a major change in industrial production. 3D printing is one of the main levers of Industry 4.0, whose main activity is the digitization and automation of industrial processes. 
Are you still hesitant to buy a 3D printer at your premises? Not sure how much you can make of it? 
Today we present you 8 advantages to the acquisition of a 3D printer, including 3 advantages specific to our EVA machines.
Acquiring your own 3D printer will shorten your development processes. 
You can quickly move from the idea to the first prototyping. No need for intermediaries and subcontracting, make all your manufacturing directly in your workshops. 
A 3D printer replaces weeks of production by days or hours. Your projects will be realized faster.
The presence of a 3D printer in your workshops will allow you to be in constant contact with the manufacturing process. 
Create your tailor-made pieces and directly materialize your ideas in your own premises. Choose your processes, applications, and materials. 
You will be able to create iterations of your pieces to infinity.
With your machine you will no longer have any external constraints. You will be able to make last minute changes directly on the machine at any time. Offer you a wider reactivity for the manufacture of emergency parts in maintenance or after-sales.
Direct contact with the machine ensures instant agility in any changes you make during your manufacturing processes. 
The combination of customization and flexibility guarantees you complete autonomy in your additive manufacturing. 
The acquisition of a 3D printer transforms your workshops into ultra-connected spaces, open to the industry of the future, in a completely digitized and autonomous environment. 
Your manufacturing processes no longer depend on any external environment.
Making your manufacturing faster, removing intermediaries and being self-sufficient will reduce the costs of your manufacturing processes. No longer depend on costs imposed by subcontractors.
In addition, a 3D printer will allow you an optimization of the labor, indeed only one person can be responsible for the realization of the manufacturing parts. The autonomy of the machine will allow you not to requisition an operator during the entire manufacturing period.
Investing in a 3D printer will allow you to have a better manufacturing cost in the long term. You will get a return on investment of 2 and a half years.
This is where our 3D printer, EVA, comes in.
One of the advantages of EVA is its ability to produce large-format productions. Its tray of 1000mm x 500mm x 500mm allows you to print monoblock pieces or in quantities.
No longer be limited by space, print in large numbers.
EVA is not a simple 3D printer. Indeed, it combines 3 processes and 3 applications alone. 
You can print in 3D, but also machine and engrave your parts, without changing machine or operator. With our different tool heads, change processes in less than a minute. 
EVA's versatility allows you to manufacture prototyping, tooling and final parts. Work as many materials as you want, do not hesitate between polymers, metals and composites.
Gain more autonomy with EVA. Easily use EVA with N-play, the control software. Common and intuitive to all 3 processes, easily navigate between 3D printing, machining and laser engraving.
Namma offers you training to know and manage our machines independently.
The acquisition of a 3D printer will allow you to optimize your development processes. The evolution of your workshops in ultra-connected space will allow you to enter the era of industry 4.0. 
Choose EVA and become autonomous, versatile and flexible on your manufacturing processes thanks to its large capacity, intuitive software and industrial quality.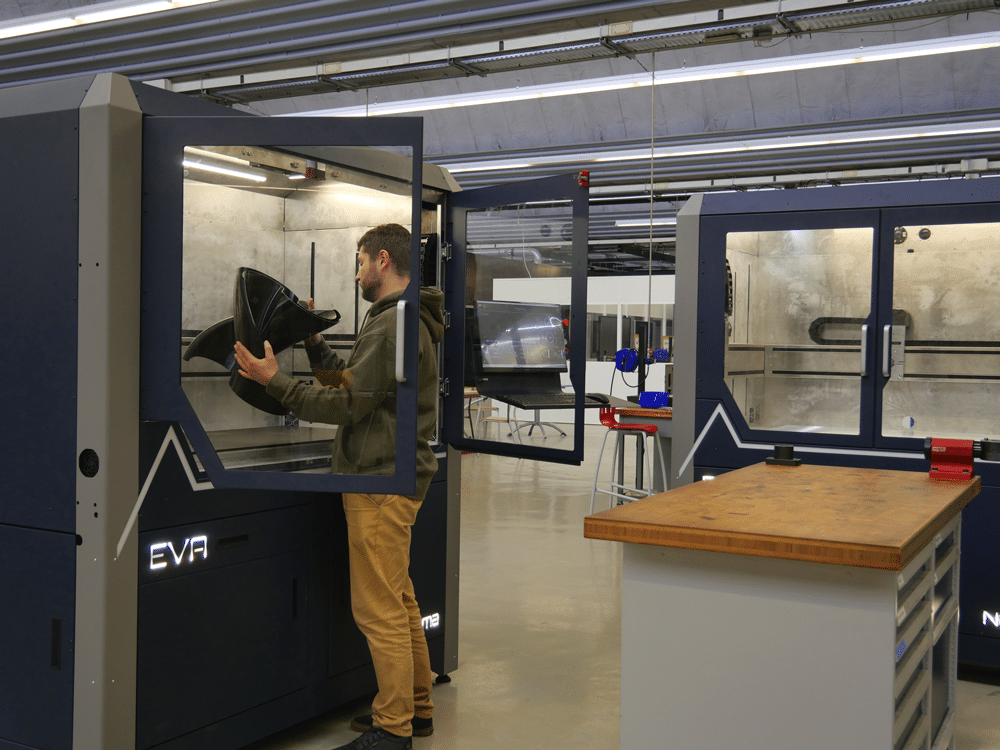 The different industrial sectors 3D printing has revolutionised the industrial manufacturing landscape by offering greater flexibility and customisation. It has become a …