Advantages of a machining machine
CNC machining (Computer Numerical Control) is a subtractive production method that, unlike 3D printing, involves the removal of material from a block.  Machining has many advantages and allows an increase in productivity in the realization of parts.
Are you still hesitant to buy a CNC machining machine at your premises? Not sure how much profit you can make? 
Today we present you 6 advantages to the acquisition of a machining machine, including 3 advantages specific to our EVA machines.
CNC machining can produce parts with very precise dimensional tolerances, especially up to an accuracy of 0.05mm with EVA.
In addition, CNC machines are also capable of producing parts with a very fine surface condition. (Example: EVA produces parts with RA values up to 0.3 µm). This precision is essential to guarantee the quality and reliability of the parts produced, which is particularly important in all sectors of the industry such as aerospace, defence, automotive and medical.
CNC machining offers the possibility to work on a wide variety of materials, ranging from metal to high-performance polymers (high temperature type and increased mechanical resistance), composites as well as wood and its derivatives. 
This versatility is a major asset for manufacturers, as it allows them to meet the specific requirements of each project. In addition, the material cost is often cheaper, which makes CNC machining even more advantageous for the realization of your productions.
CNC machining is a versatile manufacturing method that makes it possible to produce parts in small and medium series with precision and speed. 
Thanks to its multiple functions, such as drilling, tapping, milling and engraving, CNC machining offers great flexibility to meet the different demands of the market and customize the parts according to your needs.
In addition to the aforementioned advantages, EVA has the ability to produce parts in large format. 
Its tray of 1000mm x 500mm x 500mm allows you to machine monoblock parts as well as batch parts. No longer be limited by space, build in large numbers. 
EVA is not a simple machining machine. Indeed, it combines 3 processes and 3 applications alone. 
You can then 3D print your parts and then re-machine them directly without changing the machine or operator. It also has laser technology that allows you to engrave your parts. With our different tool heads, change processes in less than a minute. EVA's versatility allows you to make prototypes, tooling and final parts. 
Gain more autonomy with EVA. The embedded software, N-play, is an intuitive interface that allows you to control EVA easily and optimally regardless of the process used.
Namma also offers trainings allowing you to use all the machines of the EVA range independently. 
In summary: 
CNC machining is a production method offering high precision and high-quality surface conditions, this method also offers great versatility, allowing you to work on a variety of materials and customize the parts according to your needs. The acquisition of an EVA machine brings you additional advantages, such as the ability to produce parts in large format, the combination of three processes in a single machine, and a quick handling of three manufacturing processes. EVA represents a wise investment to increase the versatility of your workshop.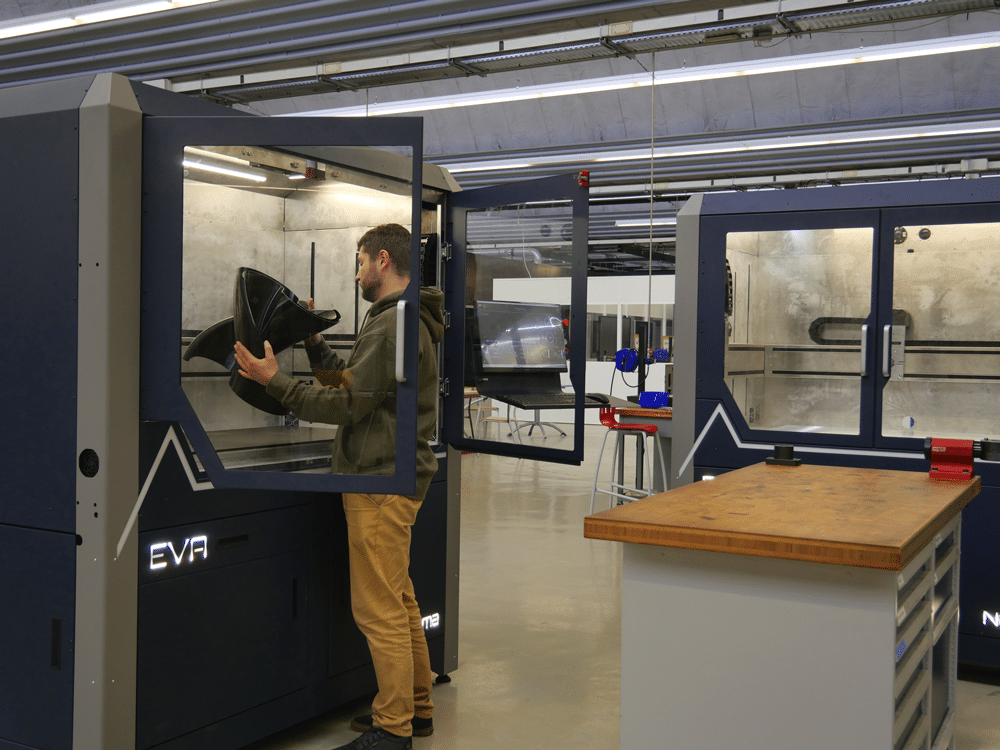 The different industrial sectors 3D printing has revolutionised the industrial manufacturing landscape by offering greater flexibility and customisation. It has become a …