Be 100% autonomous thanks to our hybrid machines, allowing to group 3 processes,
3 applications and many materials in one machine.
Versatile
With 3D printing and machining, access a wide range of materials and applications to increase your innovation and responsiveness.
Compact size
Its working volume of 500mm x 500mm x 500mm allows you to produce large formats, monobloc or series, while keeping a compact size for your workshops.
Intuitive
Thanks to its control software, N-Play, make the realization of your productions accessible to all at each stage of production.
Industrial
EVA500 is a technological solution proposed for industrialists. All our machines are manufactured and assembled in France.
Drastically reduce your costs, increase the speed of your developments and no longer depend on external factors. 
L80 mm x l60 mm x h 20 mm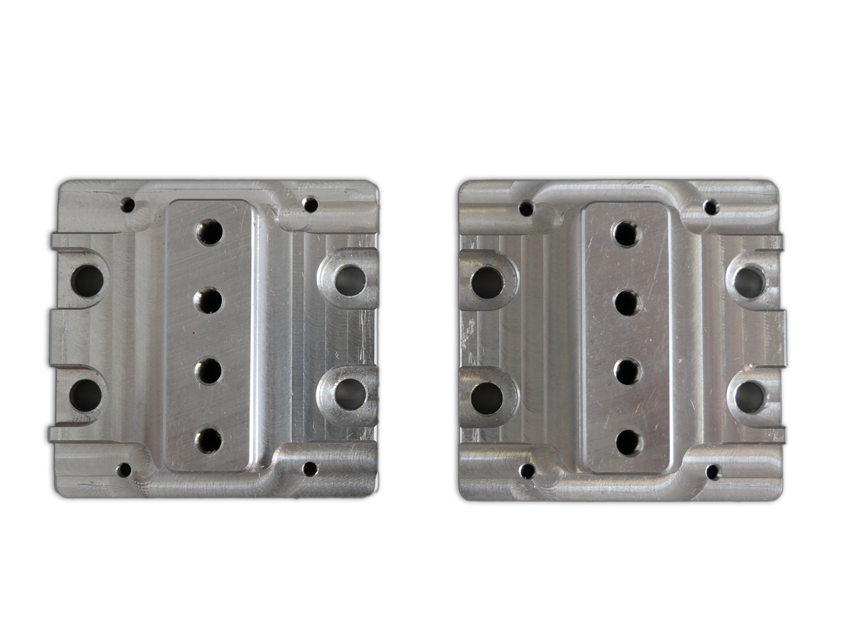 L350 mm x l280 mm x h 20 mm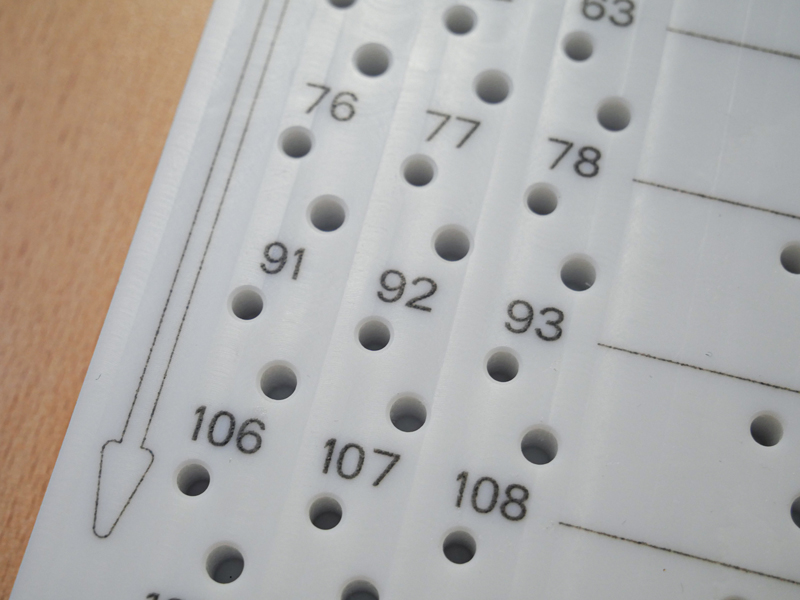 Outillage de positionnement
L400 mm x l400 mm x h 350 mm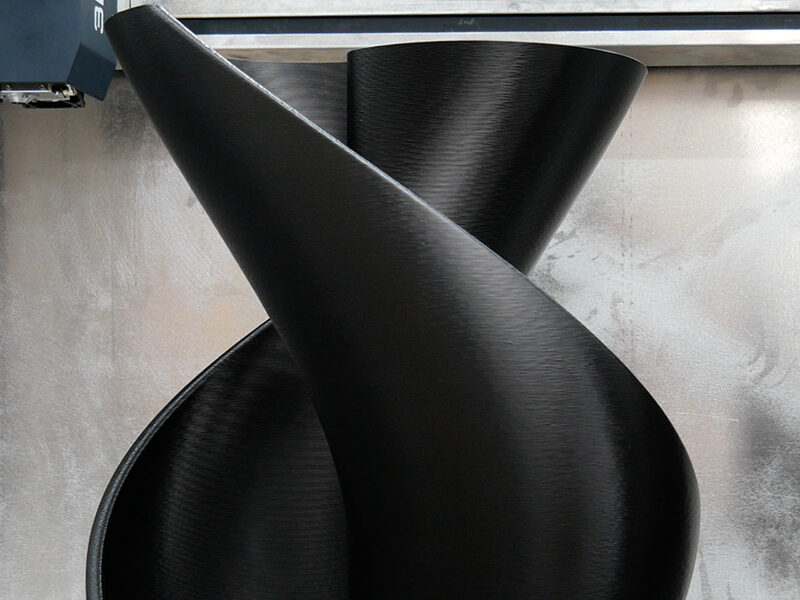 L300 mm x l190 mm x h45 mm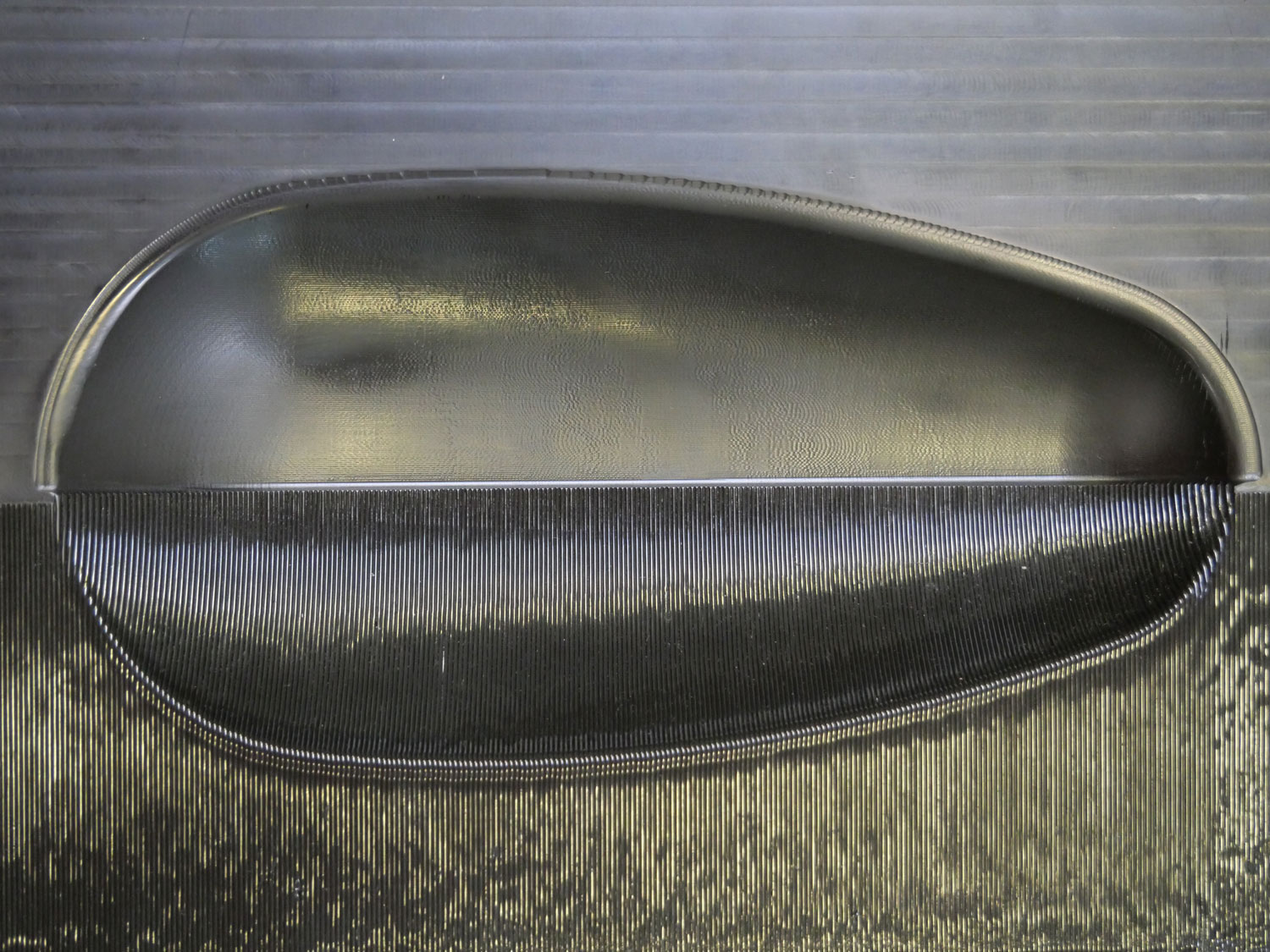 3D PRINTING, MACHINING, CUTTING, ENGRAVING
Choose the tool heads for your needs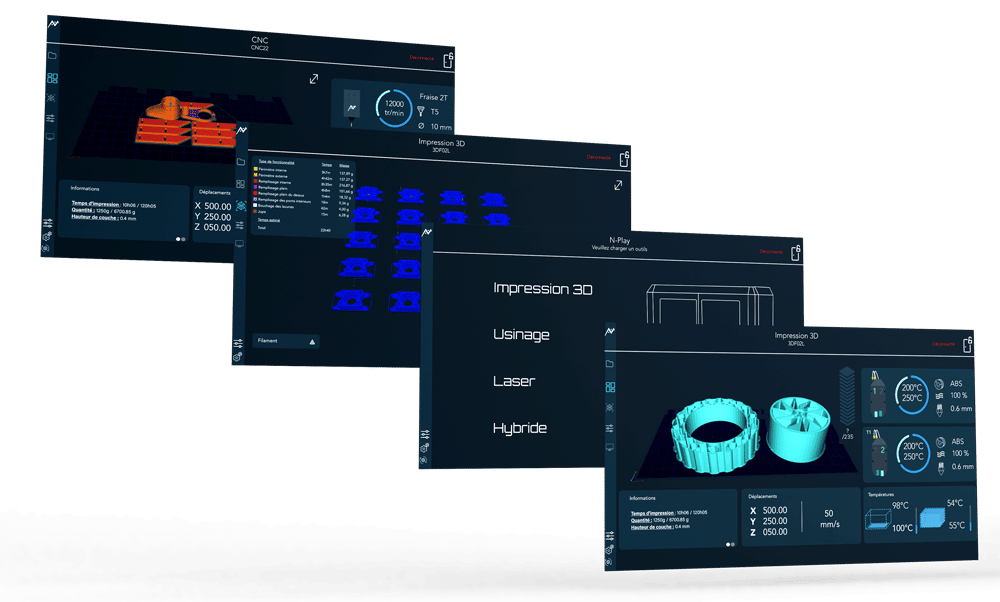 The N-Play graphical interface has been designed and developed to adapt to all types of users. With a 22-inch touch screen, the user can interact easily and quickly with EVA.
Optimization of manpower: one person to operate three processes. 
3 processes - 3 applications Large volume of work
(1000mm x 500mm x 500mm)
Compact working volume
(500mm x 500mm x 500mm)
Heated tray (max. 120°C)
Heated enclosure (60°C)
Usable in 3D Printing,
Machining and Laser Engraving Download directly the complete data sheet
A WIDE CHOICE OF INDUSTRIAL MATERIALS
Polymers, metals, composites, wood and more are now within your reach with EVA. Produce production-ready 3D printed, machined or engraved final parts with our wide range of materials.
In block, plate or filament form, use the best performing materials for your needs. 
Reduce your product development time with EVA and its multiple tool heads to meet the challenges of Industry 4.0.
Switch from one process to another without changing machine and operator: it is now possible with EVA.
Produce 3D printed parts and then machine them with the same EVA machine to achieve precise dimensional tolerances and smooth surfaces.
Get a better traceability of your parts by laser engraving their serial number after they are 3D printed.
Working dimensions: (L) 500 mm x (W) 500 mm x (H) 500 mm for printing one-piece parts.
To make batches of parts per tray for increased production.
External dimensions: 1900mm x 1980mm x 800mm.
Reduce space in your workshop with a compact machine.
Equipped with a thermoregulated chamber from 20°C to 60°C, make parts with technical materials.
Guarantee the safety of users: EVA is CE certified and equipped with a filtration system (with HEPA filter) as well as a suction system for chips and toxic fumes remains closed to guarantee industrial quality.
GET ACCESS TO INDUSTRIAL QUALITY
EVA is CE certified according to the 2006/42/CE directive.
Produce high quality parts thanks to the linear rail and ball screw transmission system.
Welded steel frame to withstand high machining forces. 
Machine guaranteed for 2 years.
We attach great importance to the support of our customers.
We are located in Bordeaux, as close as possible to our service providers and suppliers to guarantee you a great reactivity. 4. Finalization of the purchase

How about moving to Industry 4.0?
Increased and flexible productivity
What do our customers think?
EVA is a high-performance machine that keeps all its promises! Its large size allows me to make one-piece parts and opens up new markets.